I am so excited about the showcase happening next week!  I was feeling a bit stressed, but things are coming together and now I just can't wait!  I wanted to introduce the two talented gentlemen who will be joining me on stage, Eric William Braun and SHADOWLIFTING!  
I have wanted to be part of a Songwriters-in-the-round performance for ages, and since deciding to do it myself (why do I always feel like I need to wait for permission???) these two were the first artists who came to mind.  I wasn't sure if they would be interested, so I just went for them and figured the worst that could happen is that they would say no.  But...lucky me...and lucky you if you come hear them...they both said YES!!!
Here's a fun fact about Eric...he and I have actually never met in real life!  We are currently only instagram friends!
I reached out to Eric when I was planning my mini tour for the summer.  He was booked to play at some of the venues in Southern Alberta that  I was trying to book, so I sent him a message to ask a couple quick questions.  He answered my questions right away, and we ended up chatting a bit about booking shows, going on tour, and possibly trying to book something together.  Things didn't quite line up for when I was on my mini tour, but as soon as I started planning this event I hoped Eric would accept and make the trip up from Lethbridge.  
I have been listening to his songs and video clips from live performances and cannot wait to hear him live!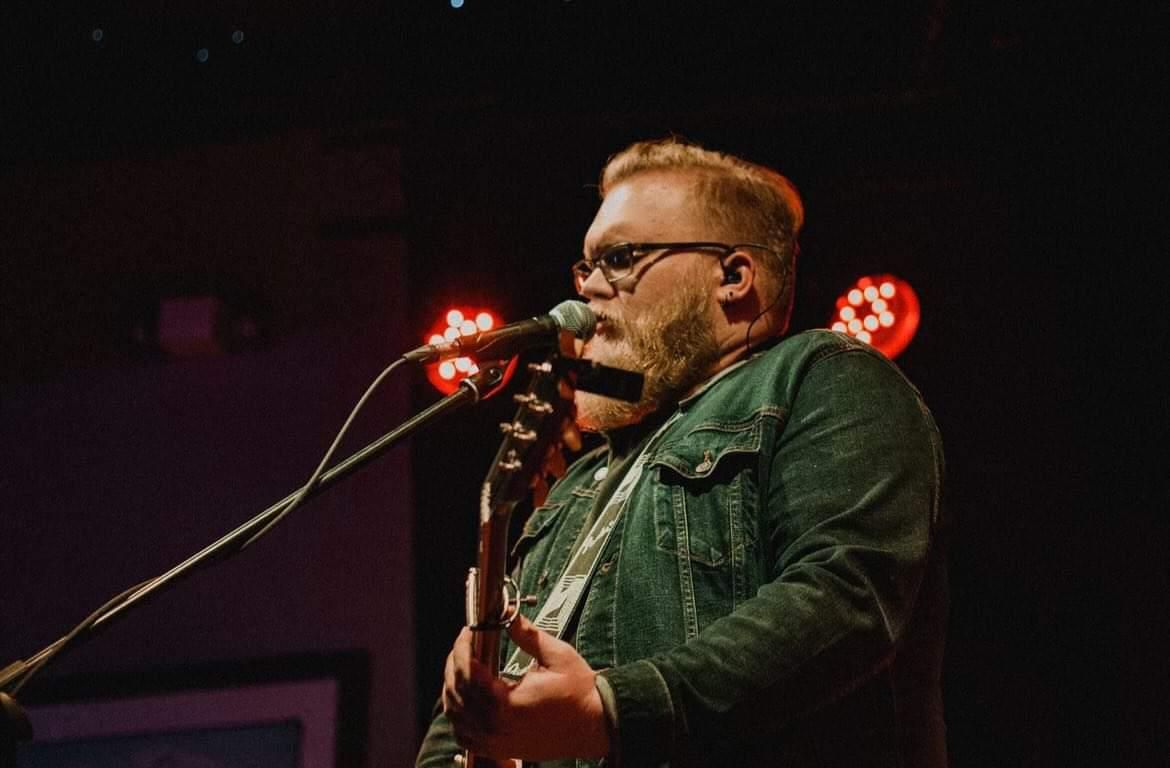 There is an intersection where the imaginative and the real world meet. At this intersection is where you'll find Eric William Braun. The idea that the creative world holds just as much truth as the objective world is an idea that Eric holds near to his core being, and it's an idea he hopes to be able to share with the world. And it's an idea that starts with honesty.  Through songwriters such as John Mayer, Jason Isbell, Chris Stapleton, Ray Lamontagne, and countless others, Eric has found a truth that forms the core of who he is as an artist: It's not about saying something, it's about having something to say. That truth translates to his guitar playing as well. Through his guitar, Eric seeks to speak those feelings that we have a hard time putting into words. John Mayer, Stevie Ray Vaughan, Brad Paisley, Keith Urban - these are artists who have done it so well, and Eric hopes to continue that tradition. Truth and creativity meets meaning in everyday life. Imagination and objectivity. The bridge between those two realms. That's the legacy Eric William Braun strives towards.
Click here to check out Eric's music!
And next up, my friend (on Instagram AND in real life!) Chris Regnier who makes beautiful music under the name SHADOWLIFTING!  
I believe the first time I met Chris in person was actually at my show back in June.  He learned about my show through my lovely friend, and I learned that he was also an artist.  A few weeks later, I got to hear Chris play live and so enjoyed the experience!  
Great vocals, the perfect guitar accompaniment, a blend of familiar covers and fantastic originals, and a warmth and authenticity like I haven't seen or heard from very many artists.  I knew Chris was someone I wanted to collaborate with, and was so thrilled when he agreed to be a part of this event!  
SHADOWLIFTING
A musical project in its infancy created by Chris Regnier (that's Ren-yay), a slightly travelled, Alberta-born human being who now resides in High River.
Raised on a diet of Beatles, Fleetwood Mac, KISS, and Prince; Chris is currently a well trained circus lion with aspirations of becoming a successful caged bird.  In either case, he is confident in knowing which side of his bread gets buttered.
Click here to check out SHADOWLIFTING's Music!
Seriously.  These two....I can't wait!!!!!!! 
I hope to see you there!  Click here for more details!