Hello friends!  
I can't believe it is already August.  Anyone else feel like July was gone in a blink?  
I am feeling excited, jittery, unsure, nervous, proud, and a whole lot of other things.  This week I hit the road for my first ever mini tour.  It has been a tough journey, I'm not going to lie.  
I've been thinking about doing this for a very long time.  I started the planning phase months ago and have lost count of the many hours that went into this mini tour.  While part of me wishes that I had more than 4 stops planned, I am also grateful for something small to get me started.  I have made some great connections, even with places that are not on this year's tour schedule.  I feel like seeds have been planted and am hopeful that it will grow in the future.  
And, of course I am very excited and grateful for the four stops I have planned!  I appreciate venues taking a chance on someone they don't know!  I will bring my very best to the audiences at every place along the way.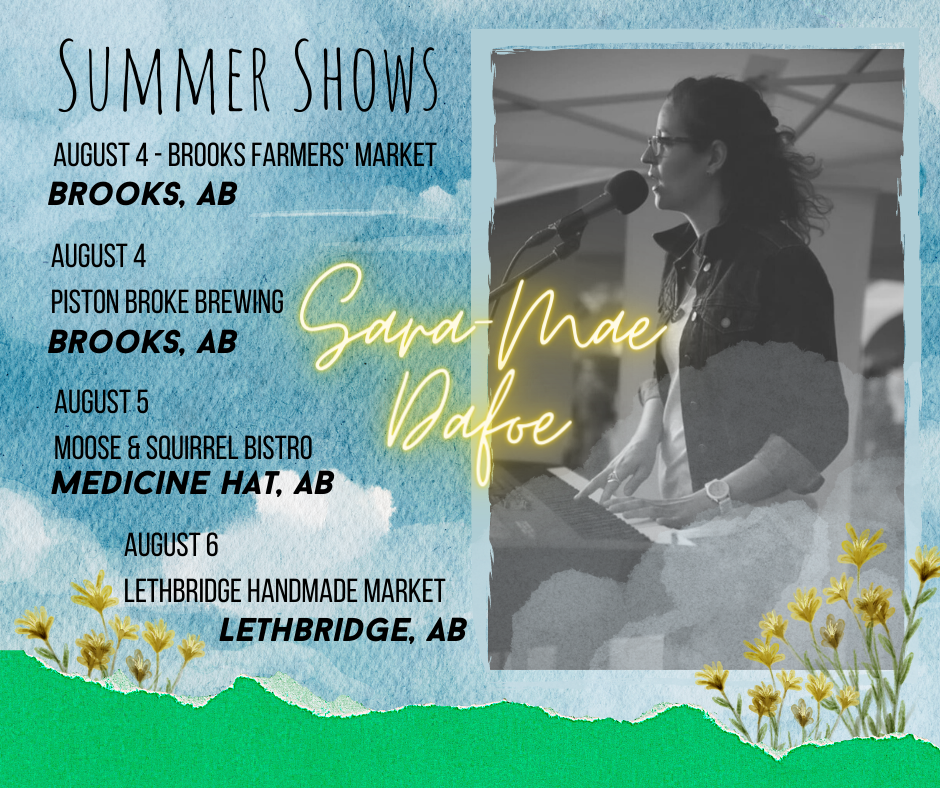 Here are the details for each stop on my mini tour!
BROOKS, AB   Brooks Farmers' Market,  201 1 Ave W
Thursday, August 4th, 2:00 - 6:00
BROOKS, AB   Piston Broke Brewing, 350 9 St E
Thursday, August 4th, 7:30 - 9:30
MEDICINE HAT, AB   Moose & Squirrel Bistro, 651 2 St SE
Friday, August 5th, 7:00 - 9:00
LETHBRIDGE, AB   Lethbridge Handmade Market, 3401 Parkside Dr S
Saturday, August 6th, 1:00 - 3:00
Help me spread the word by sending this to any friends and family you may have in the Brooks, Medicine Hat, and Lethbridge areas or of course stop by if you are in any of those places yourself!  
Thanks everyone, and see you on the road! 
Sara-Mae